Evercode Lab is listed among the best custom software development companies for startups by Superbcompanies.com
Evercode Lab is delighted to announce that we have been included in the list of top-performing and reliable companies by another great source of business info! Superbcompanies.com is a professional portal providing overviews and ratings of IT companies from all over the world.
What is Superbcompanies.com?
Namely, our company was added to its top list of custom software development companies for startups. Indeed, collaborating with startups is our key field of expertise (another priority is cooperating with small-and-medium-sized businesses) Over the years, we have fruitfully collaborated with multiple aspiring teams dreaming big. As a result of our partnerships, we have delivered MVPs on a truly Agile basis, supported and enhanced those minimum viable products, and helped turn them into full-fledged solutions.
Right now, we can exceed startups' expectations across such industries as crypto, eCommerce, remote education, and telehealth. The geography of our customers stretches from the US to Asia and from Estonia to Africa.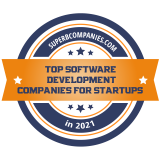 Our team is always glad to be noticed by such experts as those working at Superbcompanies.com, "collecting, systematizing, and analyzing data" on thousands of companies from every Continent. In addition to the IT-related services, this platform offers valuable data on PR-services, marketing, and advertising. We hope that being featured on this list will help us find new exciting projects, launch fresh collaborations, and build more groundbreaking solutions.
Evercode Lab: Facts About the Company
Tech Stack: React, React Native, Node, JavaScript, C++, Typescript, Nest.JS, PostgresSQL, MongoDB, Redis.
Amazon and Google Cloud: Expertise in Cloud Technologies
Expertise in iOs, Android, and hybrid solutions
Low rates starting from €30 per hour
Contact us to discuss your next startup idea!