spite of the fact that Evercode is not a large company, we are proud that our efforts did contribute to this growth. For example, two of the wallets we helped to create, Atomic and Guarda, are continuously listed among the top available cryptocurrency solutions for aspiring investors and owners. Correspondingly, we feel eligible to share our perspective on another important issue, white-label wallets. 
Cryptocurrency Landscape and White Label Wallets

The total number of blockchain wallet

users globally

exceeded 76 million in August 2021. In comparison with that, back in August 2020, there were 53 million, 41.5 million in 2019, and 28 million in August 2018

As for the number of crypto assets, there are as many as 6000 in 2021, according to

Statista

. However, the TOP-20 assets still account for 90% of the entire market

In spite of the enormous potential blockchain technology offers to every industry, the main role it plays is still defined by cryptocurrencies. According to Deloitte, back in 2020, 33% of blockchain use cases involved 'digital currency' and 20% of them featured the 'payments' category

While Bitcoin, as the world's top cryptocurrency, is restricted across several jurisdictions, it is legal

in most '

developed countries

', including the United States, Japan, Canada, and

the EU

. Finally, El Salvador recently became the first country to adopt Bitcoin as its

legal tender
On the basis of these four trends, one can draw the following self-evident conclusion: both companies and individuals are going to need more and more crypto wallets.
First, there will definitely be more cryptocurrency users. It is not about any form of hype anymore. Neither is it about hunting for riches. Quite the contrary, now Bitcoin owners make informed decisions perceiving digital assets as their protection against the never-waning

threat of inflation

.

Secondly, the world can "digest" only a limited amount of assets at a serious level, which is likely to stay where it is now, around 20. Correspondingly, it will be easy for vendors of digital wallets to adjust their products to this circle.

Third, the blockchain economy is likely to remain focused on currencies, payments, and fintech in general. After all, the first thing most people think about is money.

Finally, all the highs and lows notwithstanding, the current trend of legalization is also likely to continue. El Salvador is just the first in line. Among other countries, Germany has recently

passed the Fund Location Act that allows the so-called special funds to invest "

20% of their portfolios in crypto

". This measure may result in roughly

$415 billion being poured into the crypto assets. Gradually, other developed countries will follow suit, making the prospect of BTC becoming a full-fledged legal tender more and more feasible. 

Hence, it is highly likely that your organization may need its own cryptocurrency wallet sooner than later. But which one?
Reasons to Opt for White-Label Wallets 
What is a white-label crypto wallet? The answer is simple. 
Basically, crypto wallets are digital wallets enabling their end-users to store and manage their cryptocurrencies, such as BTC or Ethereum. With greater technical detail, one can define them as a program allowing you safely store your private keys. This is their primary function. On top of that, they can provide you with means to execute 'smart contracts', i.e. perform such actions as sending and receiving crypto assets.

While there are hardware wallets resembling USB sticks, the mobile-driven world is now more focused on online wallets, i.e. a web service or mobile app. This is where white label wallets march into play.

Let's assume your organization – or even you as an individual – need your own branded corporate wallet. On the one hand, you may prefer to build it by yourself or with assistance provided by a skilled IT vendor. You can do so, and Evercode would be delighted to help you with that. However, in this case, you will have to be prepared to handle a range of complex challenges, starting from UI/UX design to your server structure. Sometimes the game is worth the candle.

Sometimes, it is not.

In this case, the most reasonable thing to do is to order a white-label wallet. It is already built and ready-to-use software making it possible to launch a cryptocurrency wallet ASAP. In other words, it is an easily available and customizable software base for your future wallet.

A Case for Evercode's White-Label Wallets

Our team offers you to benefit with our Everchain White Label Wallet. With it at your disposal, you can start a full-fledged and branded non-custodial wallet for digital assets within a limited space of time and at an affordable price!

Once again, obtaining a custom digital wallet with Everchain will not cause unnecessary expenses associated with design or coding. Instead, you can simply rely on our software base created over the recent years. It encompasses the following properties:
a. Right now, you can almost instantly link your Everchain wallets with such popular blockchains as: 
BTC 

Ethereum 

Binance 

NEO 

TRON

Waves 

EOS
If you need something new, we are always ready to negotiate necessary integrations under agreeable terms.  
b. You can also specify a unique look of your white label wallet, within reasonable limits, that would cover your own brand and preferred colors.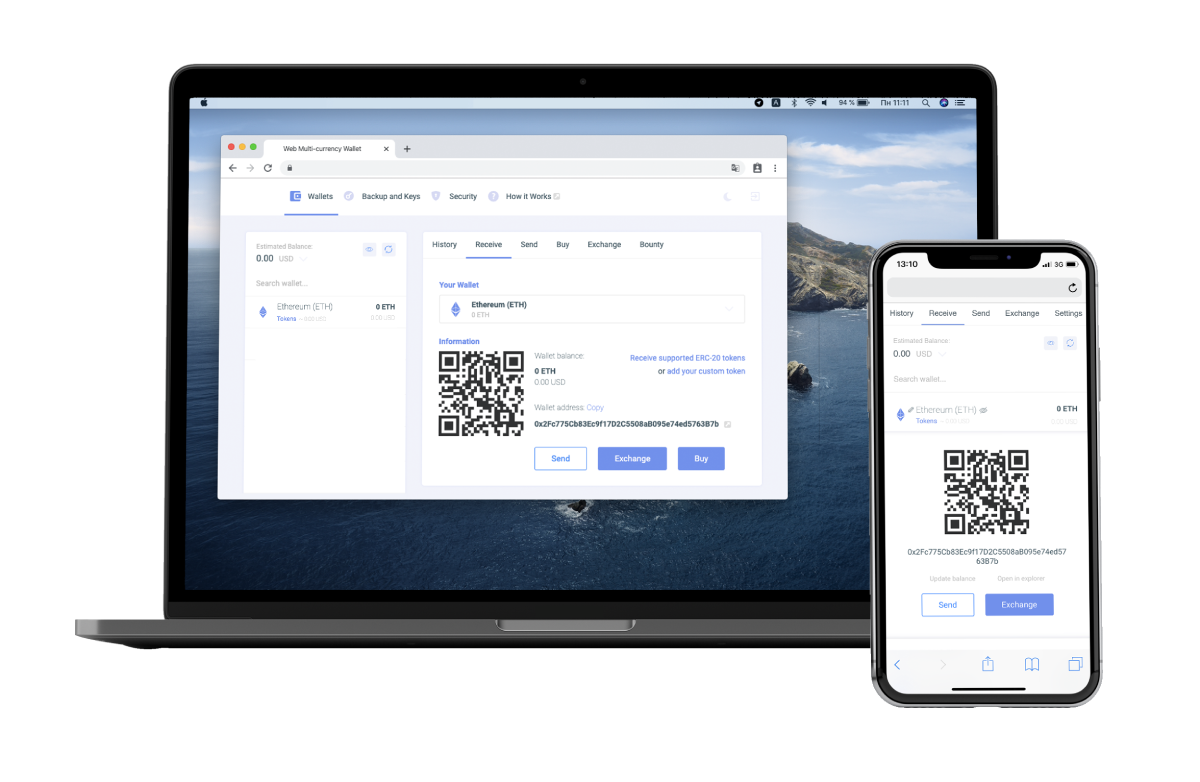 c. The Evercode Lab team is also ready to assume responsibility for the support and maintenance for your wallet if you do not want to entrust it to your in-house team
d. As for the capabilities, the Everchain White Label wallet comes with two packages. The basic one includes sending and receiving assets as well as the availability of your transaction history.
As for the advanced one, it is negotiated individually. It may include: 
Control over transaction fees

Exchange and exchange history

Balance displayed in fiat 

Connection of ledgers 

Several addresses used simultaneously 

Auto backups, alerts and push notifications

If you find this option interesting, do not hesitate to get in touch with the Evercode Lab team!