We at Evercode Lab are always happy when reputable and trustworthy review sites, tech industry listings, IT aggregators notice our efforts and projects. Striving for excellence in everything we do and develop, it is a matter of honor for us to be featured by their rankings. Today, we are happy to share some great news: ITRATE.co included us in their list of top 30 development companies.
iTRate provides detailed info and reviews of different IT outsourcing companies so that its visitors can make informed decisions while looking for a reliable partner to handle their future IT initiatives. As such, this platform positions itself as an "evidence-based guide for B2B purchasing and hiring decisions" in the domain of tech.
We are a company with a strong focus on next-gen fintech solutions and blockchain are glad to see our team listed there. We hope this will help us get noticed by potential partners, win new customers, and share our success stories and use cases.

About iTRate in Greater Detail
iTRate is a reliable B2B platform that helps bridge diverse companies in the IT industry with potential customers. To date, the platform has over 600 companies in 9 industries presented: software development, digital marketing, IT consulting, smart contract development, etc. iTRate is visited daily by hundreds of customers looking for contractors to launch various projects and find reputable companies that are willing to help.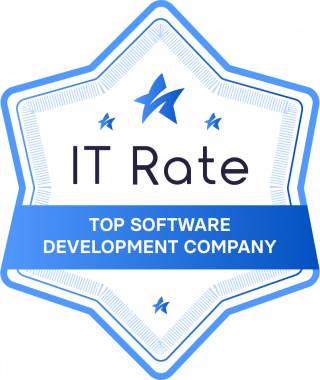 In turn, iTRate does not stand still and every day develops a base of companies, multi-profile groups of IT companies, and full-service agencies, enlarging it with new trustworthy options for cooperation.
iTRate provides both geo-referencing and a search by the IT industry, which greatly simplifies the process of finding a contractor. In the catalog of web studios, digital agencies, and other IT companies, a business can find the best contractors for a project for a variety of parameters, ranging from prices, location to the ratings of companies.
To help clients find the company which corresponds best to their business needs, iTRate has many IT reviews. Each one of them is reliable and prepared by professionals by collecting and presenting reliable information, evidentiary comparisons, and in-depth market and industry research. The platform tracks the growth and changes in the industry.
For companies providing IT services, iTRate is a perfect platform to take a leading position in the ranking of the best contractors in the industry and quickly become noticed by potential customers.
Fill out the online form and start enjoying the benefits of the iTRate platform!